Ok, so not really, but that's just the title that came to mind.
So what's been happening in the strange, never-ending world of mine now?
Ah where to start.
I left off on December 18th, all sorts of stuff ending and starting, etc. etc. I'd done some mild job hunting, but planned to go all out once the holidays were over since I knew it would be pretty useless to take on a holiday job when I knew I wouldn't even be there for the holidays. Besides, I wanted to have the time to spend with my dad since he was coming back from Pennsylvania, even if it just meant doing nothing on a couch all day. Gotta soak up what dad time I could get, you know?
I did plenty of scrambling before his arrival to deal with graduate schools. I literally combed through every Pennsylvania school and finally sent material out to five of them. Pennsylvania State University, Slippery Rock University, Wilkes University, Seton Hill University, and Rosemont College. *whew* Now that was over with. Nothing more to do but wait.
After a wonky Christmas that saw us opening presents the night of the 23rd, leaving for Carbondale and Arkansas the afternoon of the 24th, picking up Stacey and then over the river and through the woods to grandmother's house we went.
Here we are – the short, short version. On the road while watching
Batman Begins
on Stacey's laptop and eating a piece of her homemade cheesecake (interesting to do in a moving vehicle…), getting to grandma and grandpa's around 10 or 11 at night, having to leave the dog in the car since they won't let her in the house (Stacey and I donating our coats for her to snuggle in), Christmas feast the next day, plenty of
Lost
since Stacey brought it for me to watch, ham feast the next day, feeling like a stuffed turkey myself, lots more
Lost
, poor doggy is miserable out in their garage, even if it is warmer than the car, and finally we go home on the 27th.
Skip over New Year's Eve and move right on in to 2007.
Ok, moving on to the up-to-date stuff.
Two days after dad left, an ugly rainy day, I hopped into my orange candy (the scent is going away actually…awww) car and drove to Champaign for the specific purpose of getting a ton of applications and applying for a tons of jobs at once. After hitting up numerous stores and only filling out a total of 3 paper applications (two of which were downloaded from websites) and being told by the rest that the only way to apply is online (puke), I pop by the bank, give Champaign the bird, and roll on home. It's at the computer I do most of my applying, even going so far as to go back to Monster.com and CareerBuilder.com to poke around, tallying up a total of this:
Sears
JCPenny
Bergner's
Barnes & Noble
Macy's (2 positions)
Petsmart (2 positions – yes, I applied here, shut up)
Pages for All Ages
Michael's
Borders
The Banfield Animal Hospital
At Barnes & Noble when I popped by, one girl sort of gave me a weird kind of mini-interview on my way out. No idea what it was, but it never came to anything. Maybe she was looking for something different than what I applied for, I don't know. I didn't apply to Dick's because they were out of paper applications (and they're never out of paper applications) and I found later that you can't apply online for most store positions. I take this was God's way of telling me not to work there anymore. I also sent in an application to a little sports company that just moved here in Rantoul and is looking for someone for office work. I was all over that like a bear on honey (num!).
I had two interviews this week. One was at Sears on Monday and another with Hayden Athletics (the lil Rantoul place – it's actually right down the road, which means working there would be
extra
sweet; an office job
and
it's like, 4 or 5 miles away? Kickass) Friday morning. Well, the Sears one was…well, I'll just leave it at "weird." Also unfulfilling as I guess I applied just a tad too late and the positions were all filled. The human resources woman said she would chat with the higher up guy to see what he had and would let him see my application, but as they haven't gotten back to me, I'm just going with "it's not gonna happen." Fine by me. In my heart of hearts I didn't want to work there anyway. I know, I know, I need a freakin' job but the idea of doing retail again just really turns me off. Not so much the retail part, but mostly because my resume just looks like one big happy retail party and I want some variety on there. The Hayden Athletics, well, I'd sign up with them in a heartbeat. They sell sports goodies to colleges and high schools, and I think I got extra points with them since I was with Dick's and went to Rantoul's high school and live, like, around the corner. I know I looked good anyway; swingin' makeup, clicky heels and my hair so nice and long now it makes a fabulous bun.
Go me.
In the meantime, we're having an open house on Sunday so strange people can mosey in and out and eat the cookies we make for them. Though if it's true that people don't like to look at houses in adverse weather (had someone scheduled for today, and after working my ass off to get the house spic and span, they called and canceled while I was in the middle of vacuuming downstairs – it was raining today and the weather claims the weekend will = ice storm), then maybe that just means cookies for us.
Currently, while overall I'm in a good and decent mood, I would like for eBay and PayPal have their buildings go down in a fiery inferno – with no one in it of course. I just hate both of them right now. See, I won a $100 eBay gift certificate (link to that story coming at the end) and mom wants the entire
Sex and the City
series. Yeah, the whole shebang – something Sandra would drool over (and I don't find to shabby either), and since I have no idea what to do with the certificate, I thought "Meh, ok, I'll use that to buy it for mom's birthday and get Stacey and dad to pay the rest." Good plan, right?
In theory, sure. Just don't buy anything on eBay Express with a gift certificate. You see, I read the instructions on the certificate and followed them. Except when it came to the part about redeeming it during checkout, that never came up and I ended up paying all $152.94. O-kaaay… This is where I get angry. So I emailed PayPal with a patient, mild, "Wtf is up with that?" letter. I got a response several days later (fuckers take forever to respond – high email volume and all thtat – except maybe if their service wasn't shit, they wouldn't
have
that problem) that sounded like it might be handy (I later realized it wasn't in any shape or form), but I needed more info so I emailed them again. That's when I basically got the "Yer fucked girly" email and hence, got kinda pissed.
Ebay Express has no redeem option and there isn't any way for me to use my certificate. I finally came to that realization today. The seller has the money and there's no way to effectively refund $100 of my money in trade for the goddamn gift certificate. I don't know what the fuck else to buy, and frankly, I don't really want to use eBay's service anymore because they suck so much. I've just heard too many stories on how eBay and PayPal blow to make me comfortable trying to use it again. I guess it only works on eBay, but now I'm wary about trying to buy something else, lest I get fucked again. I hate the bidding shit, which is why I went to Express in the first place – no bidding and good prices and brand new stuff. Fuckers. So yeah, this makes me happy and I sent eBay Express a mildly pissed "You need to get your shit together" email the day before yesterday, and today was when it finally sank in that uh, yeah, I just paid $100 when I shouldn't have because these dumb-asses neglected to put in a redeem method. Therefore today I sent them a "You assholes owe me $100" email and made sure to add on "if there isn't anything you're willing to do, don't even bother replying because I'm sick of hearing empty apologies." I opted to go for the non-swearing email, even though I'd like nothing more than to set their building on fire right now.
It's not even really so much the money as it is the "Oh yeah, by the way, you can't use that here, hur hur," while the poor consumer sits there all "Huh?" thing. That just annoys the hell out of me so I'm on a violent anti-eBay rampage now. Oh, and if the
Sex and the City
doesn't get here by Monday, I'm gonna get
really
pissed.
At least I made a sale on Half.com.
A weird thing on a complete different topic is a letter I got from Wilkes University not too long ago. While it's not an acceptance letter, it's got PIN numbers and info for an email on it. I do not know what to make of this. Does that mean I'm in or does it give me the ability to find out my status when it comes to grad school processing? I finally looked around in it today and am no closer to the answer. It makes it look like I've been accepted, but there's no acceptance letter – or email. I have no idea what this is supposed to mean and had to get off the computer before I went all crazy trying to figure it out. Whatever. I'll just wait for the snail mail like I'm supposed to. No expectations whatsoever. I just write this off as them being weird for the moment.
But on to good things. There are some interesting good things, but as they all have to do with writing, I decided to put them in the other writing-specific blog
here
.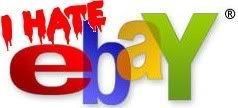 Self-explanatory I think.